How MarcusID Came to Be!!
The story of how MarcusID came to be is a magical one. It's about how my love for art and my individuality grew like a spell over the years and transformed me into an artistic creator. Even before the age of five I was drawing. Later, although every design was sketched and thought out, the first MarcusID idea happened spur of the moment. I couldn't put my pads down! How my art then grew into part of my Robotpegasys product line was a combination of luck, inspiration, and sharing.
Me and the Wizard of Oz
First let me start off by saying that I've been drawing for as long as I could remember. When I was young my parents let me watch the Wizard of Oz. I would draw those characters. My mother would label the pictures for me. My father knew that I had a passion for art and would buy me all kinds of art supplies and cartooning "how to books". When he would come home from work on Fridays my sister and I would be waiting. He would always have artistic goodies for us. For example, sometimes he handed us something called a "Fun Pad," a small coloring book that had all kinds of puzzles and activities in it. Of course, other gifts always included art stuff like pencils, pens, stacks of paper and Crayola magic markers, my favorite!
Doodle, Draw, Create
Early on, I resented school and homework with a passion, because I loved to doodle and draw. Sure, I would always do my homework, but was so obsessed with my artwork I'd often forget it and leave it at home. Frankly, I was day dreaming all the time, going to exciting and far away places. Yes, my world was filled with about every kiddie book you could think of. I wrote "Mousey's Junkyard Adventure," with text and pictures that I sent to a publisher (moe about that later).. Yes, my room was crowded with projects, hanging on walls, on tables, on the floor. School was slowing me down. Needless to say, doing art was my favorite activity in school. I remember once after a school trip, I drew a celebration of penguins that my teacher loved so much she kept it.. My destiny was set. I was going to be an artist.
A Young Artist Makes Money
I was in elementary school when I realized that art was going to be my career and business. Maybe it was those "business" episodes (selling Cool Aid, making racing cars) of the Little Rascals that inspired me. Excited, I decided it was time to make some money. You see, I was always drawing little cheesy comics with original characters and my father helped me make copies. I would sell them in school. I didn't make a lot, but 3 dollars a week in the 80's was good money. Enough to buy candy from the ice cream truck or candy store.Later I started making paper toys. Some of my art was destroyed over the years (water leaks) but I still have a lot of the good stuff in my vault! 30 years later, I still have friends from elementary school who are waiting to cash in on some of my early art.
The Aliens Visit
Here's where everything got crazy. The icing on the cake happened while I was still in elementary school. The exact date is fuzzy, but I can remember it like it was yesterday! Some people still don't believe me till this day. I had a close encounter of the first kind! I happened in my backyard. My neighbors and I saw what I can only described as a disk with spinning parts and a yellow ball underneath! That was the spark that fueled my imagination and fears for years to come. Space ships and alien occupants! After everything sank in, I made sure my room was barricaded up securely every night before I went to bed. If there were any aliens watching me they had to be laughing really hard. Note: a few mouths after that sighting a neighbor and her child started (afraid)telling people about aliens they kept seeing in their house, often peeking out of closets). You didn't have to convince me.
Marcus Peblo On the Scene
So UFO research became another one of my hobbies and that continued for the next 30 years! Fast forward to 1999! My artistic efforts had really started to pay off. I became a special effects artist at a film company (MTV) and luckily stumbled upon my dream project. As I sat in a restaurant, waiting for some pancakes, a vision just popped into my head. I little baby with a feather on his head holding a magic key. I searched my pockets, found a pen and started sketching him out on a napkin. Like magic, the name Marcus Peblo burst into my head. I could see my future ahead. I rushed home later that night and worked feverishly using Photoshop and Flash. Visions of full moons, mystic encounters, and howling wolves raced through my head. Everything was coming together. I just about stayed up all night for the next 2 weeks…and The Marcus Peblo saga was born!! In all I created 8 mini episodes, with original music scores for each one. I gained a cult following on the net (at NewGrounds, etc., for my series. I had fans from as far away as Japan.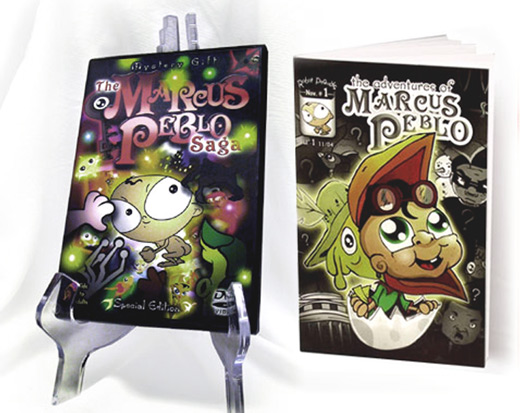 DVDs and Comic Books at Dream City
Excited, I took a leap of faith and pressed up over a thousand DVDs and original comics. One of my dreams had come true. Marcus Peblo had become the mascot of my brand which I called RobotPegasys! It didn't stop there. Deciding that I needed to keep going, I saved up and openeda flagship store. It was half art gallery, half music store, and I called it "Dream City". This is where the first MarcusID was born. You see, I was on a main boulevard and everyday parents and children would stop by the gallery to see new art. Some of the kids would save money for months just to get a painting to hang on their walls!
A Teacher and Students Take Notice
One day a teacher came into the gallery. The kids in her class were talking about some of my work and she got really curious. She loved the work she saw when she visited and said that she would get some small paintings for kids who did good in her class. I told her to give me the names of the students so I could customize the paintings. I gave her maybe 15 IDs…the next day I had parents and kids coming to get one. It was amazing, all of the crazy designs that I made now had a home. From UFOs, to strange robots, to crazy anthropomorphic animals, nothing was considered too "far out."
Marcus ID
I designed hundreds of IDs, mostly for free and enjoyed every moment of it. I perfected the layouts with characters and had developed a original and unique style that was bold and colorful. What happened next would surprise me. I was hanging new pictures in the store and one kid came in with on of the IDs around his neck on a shoestring. It looked great! From that moment on, I worked on getting it out to the public. I put together a website and the response was amazing. Since it's inception MarcusID has sold hundreds of IDs online, and this is only the beginning. An artist never stops creating and Marcus Peblo's work is never done. Spread the word and help us reach a thousand IDs! Your name deserves it.